Thermal Care Cooling Towers
FT Series Fiberglass Cooling Towers (38 to 120 Tons) from Thermal Care
A cooling tower is known as an evaporative heat rejection device. These cooling devices tend to be able to significantly lower water temperatures compared to other air cooled or dry heat rejection systems. By utilizing these industrial systems, the cooling process becomes much more cost effective and energy efficient.
Fiberglass Water Cooling Towers
Our industrial cooling towers are made out of fiberglass to be corrosion resistant compared to the tradition metal composition. The lighter the fiberglass is, the smaller the fan is that the tower uses which makes it even more cost efficient by requiring less power.
Fiberglass water cooling towers are an ideal alternative to the metal devices in industrial environments. Used as a heat removal device, water cooling towers are manufactured with corrosion-resistant materials to withstand the industrial environment by discharging heat into the atmosphere through a water evaporation and cooling process.
FC Series Cooling Towers (100 to 240 Ton) from Thermal Care
The FC Series water cooling towers and FT Series industrial cooling towers are light weight, require low maintenance, and have an extended life. Our selection of industrial fiberglass cooling towers are the smart choice for water conservation and energy efficiency.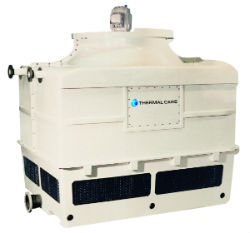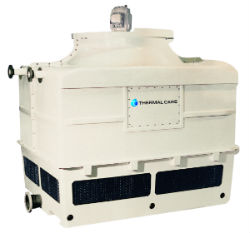 FT Series Fiberglass Cooling Towers (38 to 120 Tons) from Thermal Care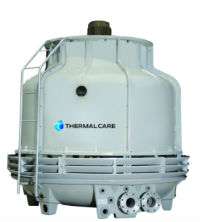 FC Series Cooling Towers (100 to 240 Ton) from Thermal Care