PACO Pumps manufactures a variety of pumps, including horizontal split case and double suction pumps; end suction and vertical split case pumps; vertical inline pumps; vertical turbine pumps; as well as condensate return and boiler feedwater systems.Visit PACO Pumps' Website
Products
Learn more about our pump types below.

Double Suction Split Case Pumps
Capacities to 60,000 GPM
Heads to 500 feet
Discharge Sizes from 1 1/4″ to 30″
Horsepower to 5000

Vertical Space Miser Pumps
Type VSM (Close Coupled) Type VSMS (Split Coupled)
Small footprint for tight spaces
Simplified installation
Low life cycle cost
Top pull out design allows easier servicing
Sizes 4″ to 10″
Flows up to 4100 GPM
Heads up to 400 feet
Horsepower up to 125 hp
Fluid temp up to 275 degrees
End Suction Centrifugal Pumps
Capacities to 5500 GPM
Heads to 350 feet
Discharge Sizes from 1″ to 10″
Horsepowers from 1/3 to 300

Vertical In-Line Pumps
Capacities to 3600 GPM
Heads to 400 feet
Discharge Sizes from 1 1/4″ to 10″
Horsepower to 125
PACO Type VL: Installation Advantages and Options
Saves floor space
No flexible connectors
No foundation grouting
Reduces piping
Mounts like a valve for quick installation
No coupling alignment
No bearing frame assembly
Easier to maintain
Smaller spare parts inventory
Equal size suction and discharge pipes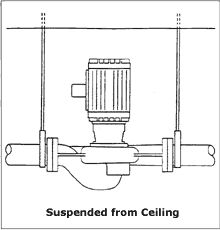 2 foot, Lo-NPSH Centrifugal Pumps
Capacities to 220 GPM
Heads to 790 feet
Working Pressure to 300 PSI
Temperatures to 250 degrees Fahrenheit

Package Condensate Units
Package condensate units are factory engineered, packaged systems designed to provide low cost and reliable service in a wide range of applications. Floor mounted condensate units (GR/GS) are available with cast iron receivers (to 100 gallon capacity), with simplex or duplex configuration.

Triple Duty Valves
Grundfos Series CV, Combination valve combines three valves in one: shut-off valve, balancing valve, and check valve. The combination valve makes it possible to reduce the overall system pressure drop since fewer individual components are needed when installing a pump.
The combination valve provides the feature of changing the flange orientation to allow 90° pipe connection. Additional feature includes a built-in bypass valve allowing for drainage of water upstream of the check valve.
Suction Diffusers
Grundfos Series SD, Suction diffuser provides and ensures a uniform flow pattern to the suction side of the pump ensuring a stable NPSH. Suction diffuser makes it possible to install the pump in a very narrow spacing as no long bends are necessary.
The suction diffuser incorporates a cylindrical strainer preventing impurities from entering the pump. Additional features include a disposable stainless steel start-up screen for capture and removal of foreign particulates in system piping and an adjustable support for mounting.